An authentic Safari camp in the African bush.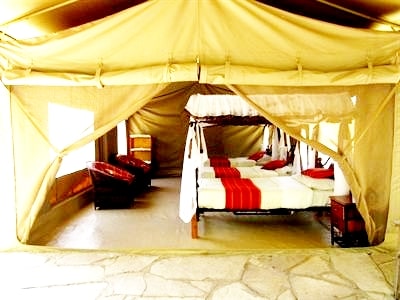 Enchoro Wildlife Tented Camp in masai mara is offering three different styles of safari camping accommodation, a campsite, a simple budget semi luxury and luxury large spacious tent, all en suite bathrooms with hot and cold shower, flash toilet, changing room, power sockets, and lockers for valuables. A writing desk with foldable safari chairs and magazines to keep you entertained. This is your home a way from home.
The camp is clean, comfortable, safe and relaxed budget semi luxury and luxury tented accommodation in Masai Mara National game reserve for independent budget travelers and masai mara safari goers. Several types of tented accommodation and tailor-made tours & safaris to suit various customers' needs are set here. For example, the Enchoro bush tented camp accommodation is geared for families, as the safari tented camp is partly fenced in and kids can roam around in complete safety within the confines of this affordable budget tented camp. The Enchoro wildlife camp is designed for budget backpackers travellers, groups from 50 people and above travelling together; this camp is ideal for large families (children from 1 year to 12 years and older), friends.
A warm welcome.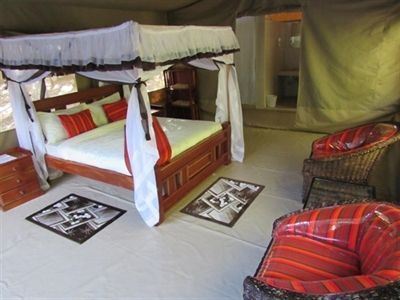 The safari tour and drivers guides will inform you about your pre-paid activities, which are morning game drives in Mara, and afternoon drives and sunset drinks in the National reserve. The head waiter will inform you about meal times, etc, and the camp manager, will brief you about the rules of the camp; the most important being that between dusk to dawn, guest must always be escorted between the public areas and the tents. Since this is an open camp, predators may walk about at any time. Book your semi luxury & luxury budget tented accommodation in Masai Mara and masai mara tour activities through Kenya youth hostels, an affiliate Member of Hostelling International travel center and purchase the full board plus discounted special tour activity packages
What you will love about this camp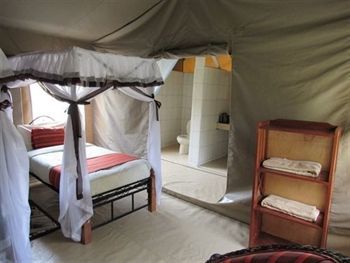 Very spacious and luxurious tents, with a comfortable bed, good-quality bedding, in-built wall sockets etc. and a great bathroom and amenities.
The views from the tents are beautiful.
Meals are expertly prepared by an experienced chef.
Dining room staff is delightfully attentive and efficient.
The camp setting is truly beautiful.
The staffs are very friendly.
Oportunity to volunteer in community development
Conclusion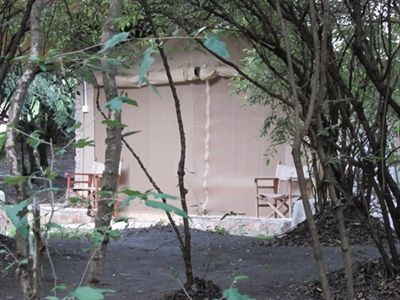 The Enchoro Wildlife tented camp is without a doubt a very beautiful camp built to provide semi & luxurious budget tented accommodation while impacting the bush as little as possible. The tents are made of khaki canvas; local wood is used for the buildings, and blends in beautifully.
You will enjoy our meals, the quality of the products (ingredients) used was clearly top-notch, and are delicious. Our chef is a highly recognized chef in Kenya, and his dishes are truly delicious.
Enchoro Wildlife Camp "The Place to stay".