Your scrumptious meals served at our open-fronted dining deck.
Our Dining is the only one of its kind within build with wood on the sides and floor, the roof thatching is done with local 'Makuti'. Makuti thatched roofing is done with pieces of drying coconut palm tree leaves this type of roofing is very eco- friendly 'Green' building material as it is made from leaves that are naturally wilting on the palm tree and therefore harvesting does not affect the parent plant in any way also to note that makuti is a 100% natural, untreated building material it is very "green" and so not harmful to the environment in any way.. The individual pieces (or tiles) have to be weaved first. Local women in the villages on the coast of Kenya usually do this during their spare time as a way to boost their economies
From street cafeterias to casual dinning to the most extravagant fine bush dinning experiences, Enchoro wildlife camp offers an extraordinary variety of local and international tasty finger liking cuisines, buffets lunches & Dinners, BBQ Buffets or alacate. Breakfast offered with hot and soft drinks. The restaurant offers some of the best options in fine dinning and all other hot drinks available. Western and local food served with some fresh ingredients brought in from farms directly every day. Sometimes we provide buffet service with Kenyan style barbecue on request.
A very spacious dinning room also serve as a meeting room convenient for all kinds of meetings, Training seminars, conferences, Retreats, product lunch, weeding receptions, birthday parties, corporate meetings, corporate and social Get-To-Gether etc.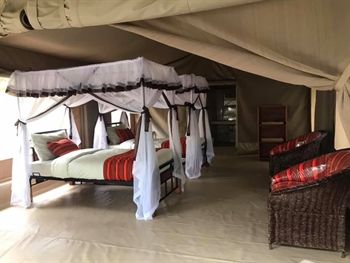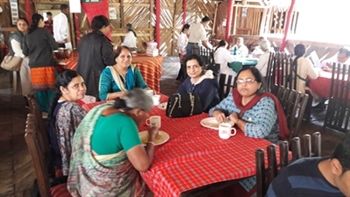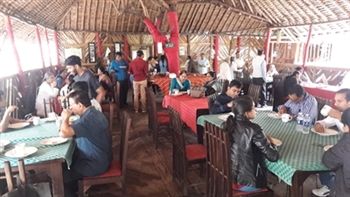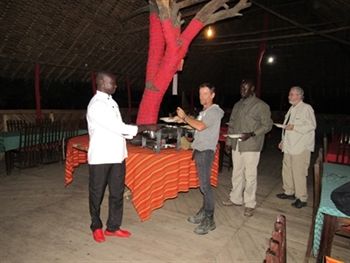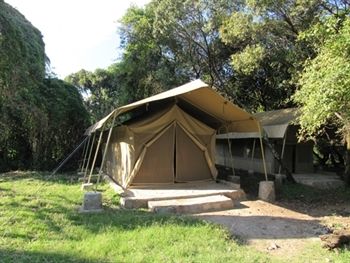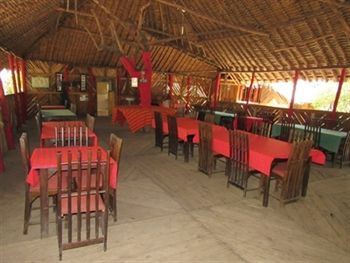 Our menu is ever constantly changing to guarantee your stay. All meals are served in our restaurant and or bush garden dinner/Lunch under the blue sky as you watch wildlife roaming in the bush in masai mara National reserve. Breakfast at enchoro wildlife Camp is the perfect start to your day in the masai mara. Take your breakfast at the dinning table and share experiences with other guests or enjoy the cool morning air. Which ever you choose you will enjoy the very best seasonal breakfast selections so you can match your breakfast mood of the day. Please let us know if you have any special dietary needs or preferences so we can adapt the menu to meet your personal needs during your stay at Enchoro wildlife safari tented camp in masai mara.
Meals Timing
Breakfast 07:00 – 09:30
Lunch 12:30 – 14:00
Dinner 18:30 – 20:00
Bar
A variety of drinks like wines, spirits, local beers, soft drinks and Mineral water are available.
Dinner
Egg Russian salad set on assorted lettuce
French onion soup with cheese crouton
Braised lamb chops with mint gravy
or
Poached king fish with mousse line sauce with croquette potatoes and seasonal vegetables
Cheese and orange cake set on fruit coulees, rice or spaghetti.
Tea or Coffee
Mixed vegetable salad topped with ham
Seafood soup with garlic crouton
Braised ox-tongue with mushroom sauce
or
Glazed pork chops with barbecue sauce with French fried potatoes and seasonal vegetables
Mocha mousse set on chocolate sauce
Tea or Coffee
Lunch
Leeks and potatoes soup with chives
Beef brochettes with mushroom sauce
or
Barbecued pork fillet with ginger sauce with a selection of assorted vegetables
Fruit Salad
Tea or Coffee
Cream of spinach soup
Spicy Beef, Potato and Capsicum stew
or
Grilled/Fried spring chicken with ginger sauce with French fried potatoes and seasonal vegetables
Fruit Salad
Tea or Coffee
Breakfast
A Glass of fruit juice either Mango/Passion/Pineapple or Orange
Assorted fresh fruit
Choice of drinks from Tea/Coffee/Hot chocolate
Bread Toast or Pan Cakes
Choice of eggs from Omelette/Boiled/Fried/Poached/Scrambled eggs with bacon/sausage