Volunteer Opportunities in Masai Mara
Looking for volunteer work in Kenya? Join Enchoro Wildlife Camp volunteer community program and give your time, share your passion, learn the traditional way of living and Masai culture while making a difference in the Masai communities.
Enchoro Wildlife Camp in Masai Mara Game Reserve collaborates with other local organizations and individuals whose mission is to support and empower the underprivileged Masai people to enable them live a wholesome life. The Camp together with the local host community members has developed great volunteer opportunities and internship programs that empower the girls and women both socially and economically. The camp also initiated various volunteer support programs for local and foreign tourists who have the passion and interest in community development service.
Enchoro Wildlife Camp seeks partnership with like-minded Individuals and organizations, in the struggle to provide a structured and knowledge based programs for this community needs. In order to mitigate some of the challenges in Masai community, Enchoro Wildlife Camp partners with Kenya Voluntary and Community Development Project KVCDP a Volunteer Placement and Non-Governmental Organization implementing the following projects in Masai Mara:
Teaching in Masai Community schools to impart basic education. Volunteers work in community schools and teach subjects such as English, Maths, General knowledge, Geography and Sciences. The schools in Kenya are open for the following months/terms: January to March, May to July and Sep to Nov. enquire more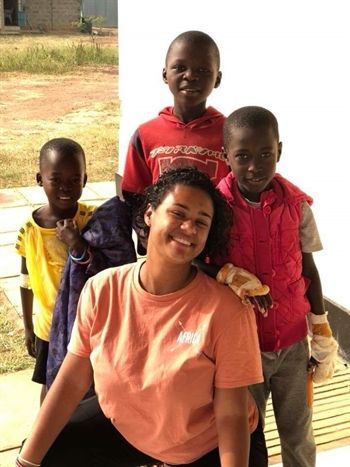 -Health programs in relation to natural herbs- Masai people in Kenya are highly regarded and a point of interest because of their strong culture. Masai depend on natural curative drugs in treating most diseases. They rarely visit hospitals thus embrace their medicinal herbs while at home. A medical volunteer can grab this special opportunity to work hand in hand with the Masai to further a research work on curative herbs and offer traditional healthcare providers an improvement in their health delivery to efficiently support the modern ones.
-FGM- Campaign against Female Genital Mutilation and early forced marriages among girls and keep them in schools. This is a great opportunity for volunteers to participate in girl child programs. Girls are circumcised at puberty (as young as 10 years old). They are kept out of school for 3-4 months, and then married off
-IGA IDEAS-Sensitize and empower girls and women on sustainable Income Generating Activities for self-reliance. Women are very vulnerable and due to lack of knowledge and cultural pressure (a place of a woman) they cannot explore various sources of income to be self-reliant. They entirely depend on their husbands to bring everything home.
Environmental conservation-. In this program, we promote and conserve our natural environment which a habitat of then the beautiful wild animals, birds, insects just to mention but a few by participating in environmental activities including tree planting, constructing gabions to curb soil erosion among others within masai mara.
-Wildlife conservation- KVCDP offer volunteer placements in an effort to promote conservation education, awareness and imparting skills to local and international volunteers. Those who join the placement include students and adults who seek a break away from their jobs in pursuit of a change